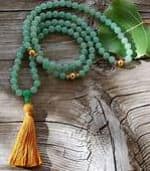 Mala Necklace making class for meditation
To start maybe we should define Mala.
Mala is a word that translates to meditation garland. These mediation garlands or Malas were initially used to assist in mediation practices by taking the garland in your right hand starting at the guru bead and slowly moving the garland through the fingers with the assistance of your left hand as you touch each bead and recite a mantra at each of the 108 beads.
The Malas that I make are made with real stone. Many are made with glass, metal, plastic beads, or seeds. I prefer the real stone because each stone has a frequency that can assist in our personal growth and well-being. Why not have the extra assistance.
Please contact me for more information.
There will be a cost, based on supplies, I estimate $45 per person.
Event Description:

*MOVED INDOORS TO CLUBHOUSE*